Congratulations to Mike Miklosovic: Soon-to-Be Retiree
In his nearly 30 years at AdvantageCS, Mike Miklosovic has held a number of positions. He started out as a programmer in 1980, when AdvantageCS was T & B Computing, and he helped develop the first version of Advantage. (Do Fortran and Cobol ring any bells?) After 8 years, he left the company because he was interested in a position where he could meet and communicate with clients face to face. He moved to the University of Michigan Department of Surgery as a programmer/analyst where he worked for 11 years until he felt he was ready for a new challenge.

Mike returned to AdvantageCS in May of 2000 as an analyst/project manager. In that job, he not only met clients but he spent considerable time at their offices during implementation projects. Mike truly enjoyed the travel and getting to know clients in person. He reports that one of his favorite things about visiting clients was seeing them in their own environment. In true Mike style, he says that working with the teams at client sites made him appreciate their efforts and how hard they work.
In his 10 years as a project manager, he traveled around the USA and many times to the UK. He was at a client site on 9/11---fortunately in the US---and had to drive a rental car many miles to get back home. His clients have enjoyed working with him as well.
Mike worked with UK company CDS Global for 12 years and became close to the team. Here's what some of them had to say about him:
"Mike has been through everything with us, the good, the bad and the ugly! We see Mike as a member of our own support team so it will be strange not to hear from him on a daily basis. Approaching every problem with a smile on his face, Mike's wisdom and experience will be greatly missed. We will also miss the annual picture of the Thanksgiving turkey and stir fry recipes. All the best Mike, enjoy your well-earned retirement." – Agi Scott
"In a lot of ways Mike reminds me of my mother-in-law:
You can rely on him to show up at the first sign of trouble
He's not afraid to ask when he needs something
He'll never tell you outright that you're wrong, but he has an uncanny way of letting you know when you are!
I love Mike to bits and will really miss him. Best wishes, Mike! - John Bidwell
"Mike is great to work with; he's friendly and easy to approach and explains things well when you need it. Mike, I hope your retirement brings you joy and is peaceful with no more emails/calls from your favourite client." – Mandeep Kainth
"Mike has spent 12 years working with CDS Global, from project managing our initial Advantage implementation and legacy system client migrations through to more recently being our main support contact. Our original implementation project was named 'Falcon' and Mike even gave us Project Falcon T-Shirts! It's a really sad day to see Mike finally fleeing the Advantage nest and flying away. His warm and friendly approach has touched everyone he's worked with from afar and who he has socialised with whilst on UK visits. He deserves the happiest of retirements, with no risk of a 4 a.m. support call from us!" – Dominic Toasland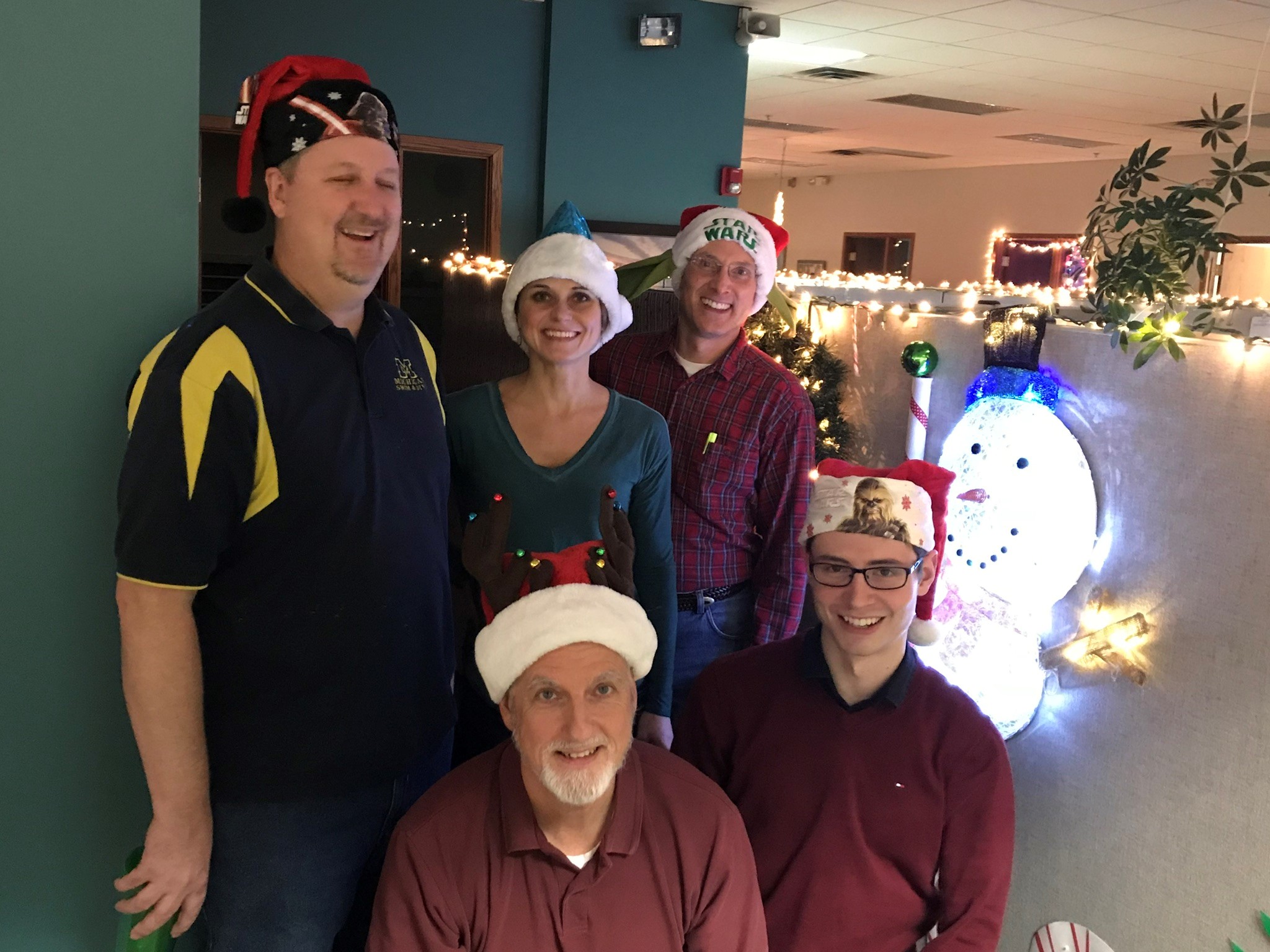 After 10 years as a project manager, Mike felt he needed a change and so moved into the QA department where he spent 6 years. He enjoyed QA because it gave a chance to learn more about different parts of the system. That experience---as well as his time in implementations---were great preparation for working in the Support Center, where he has spent the past 4 years.
(Photo on the left shows Support Center members after winning the department decorating contest, pre-pandemic)
Vince Yesenosky of Mary Ann Liebert has this to say about Mike: "I have worked with Mike for three years---since I started with Mary Ann Liebert---which most likely is the reason for his retirement, LOL! Mike has been extremely helpful, helping us to maneuver the ins and outs of Advantage."

Vince goes on to say: "Mike is accustomed to my frequent calls, so much so that he would call me to do a wellness check, if I did not call Advantage for a few days. I wish Mike well in his retirement and any future endeavors!"

"It's a pleasure when Mike answers the phone," says Ricky Land, of Black Book. "He always seems genuinely interested in whatever our issue is and goes the extra mile to figure it out. A lot of times, Mike has helped us solve the issue by just talking through everything. His knowledge of Advantage and how we use it will be missed, but we want to wish Mike the best in retirement. He deserves it!"
Born and raised in Muskegon, Michigan, Mike attended Aquinas College in Grand Rapids before moving to Ann Arbor. He earned a Bachelor of Arts in Business Administration (specifically Human Resources) from Concordia University, but along the way, he took many classes in Information Technology where he ended up spending his entire career. His first job was in computer operations and then programming at Interstate Motor Company.
He looks forward to having more time in retirement to pursue those activities and he and Mary plan to do some traveling, mostly visiting family, and taking road trips to places like Mackinac Island. But they also hope to go to Malawi, East Africa where Mary and her family spent 3 years in her early teens. They would also love to visit Italy.

While in Grand Rapids, Mike met his wife, Mary, and they had three children by the time they moved to Ann Arbor. They had four more children there and all seven are now married and live in the local area. Mike and Mary currently have 31 grandchildren, ranging in age from less than a year to 21 and Mike delights in spending time with them. He recently built an outdoor ice rink for them and is looking forward to much more of that kind of activity in retirement. When he isn't working or building ice rinks, Mike also enjoys bicycle riding, exercising and doing projects around the house.
Mike will definitely be missed by his coworkers.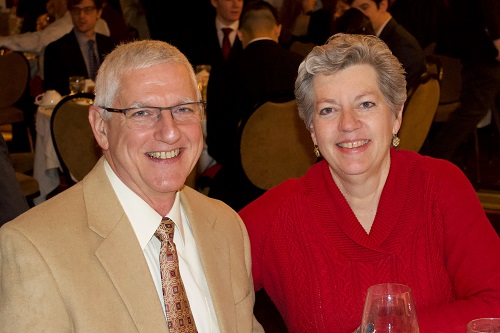 Scott Ghormley, Mike's current supervisor, has this to say about him: "Mike's ability to build strong relationships with our clients allows him to serve them exceptionally well and they trust that he will work to provide the best solution to their issues. He is not only concerned with the work-related aspect of the relationship but is also interested in their wellbeing, as well as that of his coworkers. Mike's humor and upbeat personality have made our daily meetings much more enjoyable than they would be otherwise. It has been a pleasure to work with him."

Jeff Leonard works with Mike in the Support Center---in fact, Mike is the one who recommended that he come work at AdvantageCS. They have a unique relationship.
"I met Mike during marriage preparation meetings 7 years ago" explains Jeff. "While I learned much from Mike and his wife Mary about the day-to-day realities of marriage then (and plenty more over the years), I am eternally grateful that Mike suggested I apply for a job at AdvantageCS.
I've had the great pleasure of working alongside Mike in the Support Center for several years now and I consider him a close friend. I start just about every workday chatting with Mike about the goings-on of life. I will miss our morning chats---and the many discussions we have throughout the day---very much.
Mike is eminently dependable. He has always been willing to pick up a task that just needed to get done. You can likewise count on Mike to provide levity throughout the day with puns. Once the puns start, Mike finds it hard to stop until he is 8, 9, or 10 puns in.
Mike is eager to engage in conversation with anyone and everyone he meets. He is also genuinely interested in seeing those around him succeed and improve their lives.
The greatest example of Mike's character is the way he cared for his sister in the last months of her life. He visited her every day after work and brought great joy to her and the residents and staff at the nursing home. The simple act of showing up and engaging people in conversations had a profound impact on everyone there. Mike serves as my role model for how to care for a loved one when they cannot care for themselves.
I wish Mike the best in his retirement and am sure he will enjoy spending lots of time with family, exercising (especially bicycle rides), relaxing, and bringing joy to everyone he bumps into."
Mike admits he will miss his coworkers, the great work environment and "family feel" at AdvantageCS and working with clients. "Our clients are golden," says Mike, "with good hearts and good minds."
Another thing Mike will miss is the exciting things coming down the road in Advantage. He sees a great future for ACS.
There is no doubt whatsoever that everyone at ACS will miss Mike's smiling face, cheery greetings and positive attitude. We wish you all the best, Mike!