European Users Gather in the City of Lights for Annual Meeting
Earlier this month, Advantage users hailing from 14 companies across 11 countries gathered in Paris for our annual European Users Meeting. As with previous meetings, our primary objectives were to give our European clients the opportunity to engage with AdvantageCS leadership, learn about the latest product developments firsthand, and connect with fellow users. In the spirit of connection, we kicked the two-day conference off with a lively "icebreaker." For those who are unfamiliar, an icebreaker is an activity designed to help event goers make new acquaintances. We split up according to badge color and let the conversation flow. We then handed it off to our colleagues at Bayard Presse, our generous hosts for this year's event. Vincent Blachier, Director of Information Systems spoke about Bayard's rich 145-year history and how the company (and its multiple brands) has evolved over time. Subsequently, our keynote speaker Philippe Colombet, Chief Digital Officer at Bayard took the stage. He took us through publishing over the ages, focusing on the digital revolution and its profound impact on the industry.
The second half of the day featured several AdvantageCS speakers beginning with Philippe van Mastrigt, our Director of European Operations. Philippe shared enlightening case studies and data to illustrate the state of the publishing industry. Topics included the shift from print to digital subscriptions; the rise of sophisticated algorithms and paywalls; the prominence of Internet giants and how they've impacted the advertising landscape; new players and platforms that may (or may not) disrupt the market. Philippe also addressed a few elephants in the room, namely increasing regulation. Yet his presentation ended on a positive note: despite all of the changes (and challenges), print media is still alive and well, while new opportunities like audio, e-newsletters, and membership show promise.
Next, our Chief Solutions Architect John Sheehy conveyed AdvantageCS company news, strategy, and roadmap for the future. He began with a welcome to our new clients and congratulations to those who recently went live: Amos Media, Bonnier Publications, Test-Achats, and Air Business. He then explained current company initiatives, such as event sponsorship and research & development (R&D). Recent R&D projects include Cider enhancements, Members Advantage, and Select Set Builder. In addition to R&D, integrations and security continue to be top priorities. John mentioned that we are also working to improve our user interface design. Following John's presentation, our Vice President of Engineering Services Matt Varblow gave an in-depth overview of recent changes to AdvantageCS technology.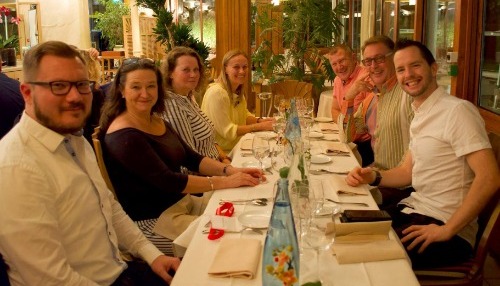 To round out day one, we held an informal networking reception, providing attendees with another opportunity to mingle. The conversations continued over dinner at a local restaurant, Pavillon Montsouris. Located on the edge of Paris's Parc Montsouris, it was the perfect setting for a traditional French meal.
Day two was focused on the Advantage product and its applications. We held two client panel discussions: one on revenue streams, one on integrations. A special thank you to our panelists — Saija Ilvonen of Aller Media, Vincent Blachier & Alexis Berniot of Bayard Presse, Filipe Lima of Deco Proteste, and Christelle Roche of Test-Achats — all of whom gave valuable insight into their respective businesses. John Sheehy returned to the stage to demonstrate some of the Advantage features he had mentioned the previous day, including Select Set Builder and our new-and-improved web user interface. The meeting concluded with lunch, after which we said our goodbyes and our attendees hopped on the Métro, trains, and/or planes home.
Thanks to the large and engaged crowd, the 2018 European Users Meeting was a resounding success. We hope everyone found it to be both enriching and enjoyable. Many thanks to Bayard Presse for hosting us, and to all who joined us at their offices in Paris. We look forward to seeing everyone again in 2019! (Insider tip: we plan to announce the dates and location for next year's meeting in the spring. Keep an eye on our blog for updates!)