News
Homepage-News
Events
Tech Tip
Highlights from INMA Subscription Summit 2023
Despite it being an annual event, I always find it fascinating. The digital subscription landscape is always in constant motion, resulting in an ever-refreshing discourse. This view must be shared, as this year's summit marked the highest attendance rate since the first London edition in 2018. Nearly 355 participants from 34 countries traveled to the Scandinavian capital this year for the summit.
While it is hard to condense all the lessons learned from the presentations made during these short two days, here are some of my most memorable.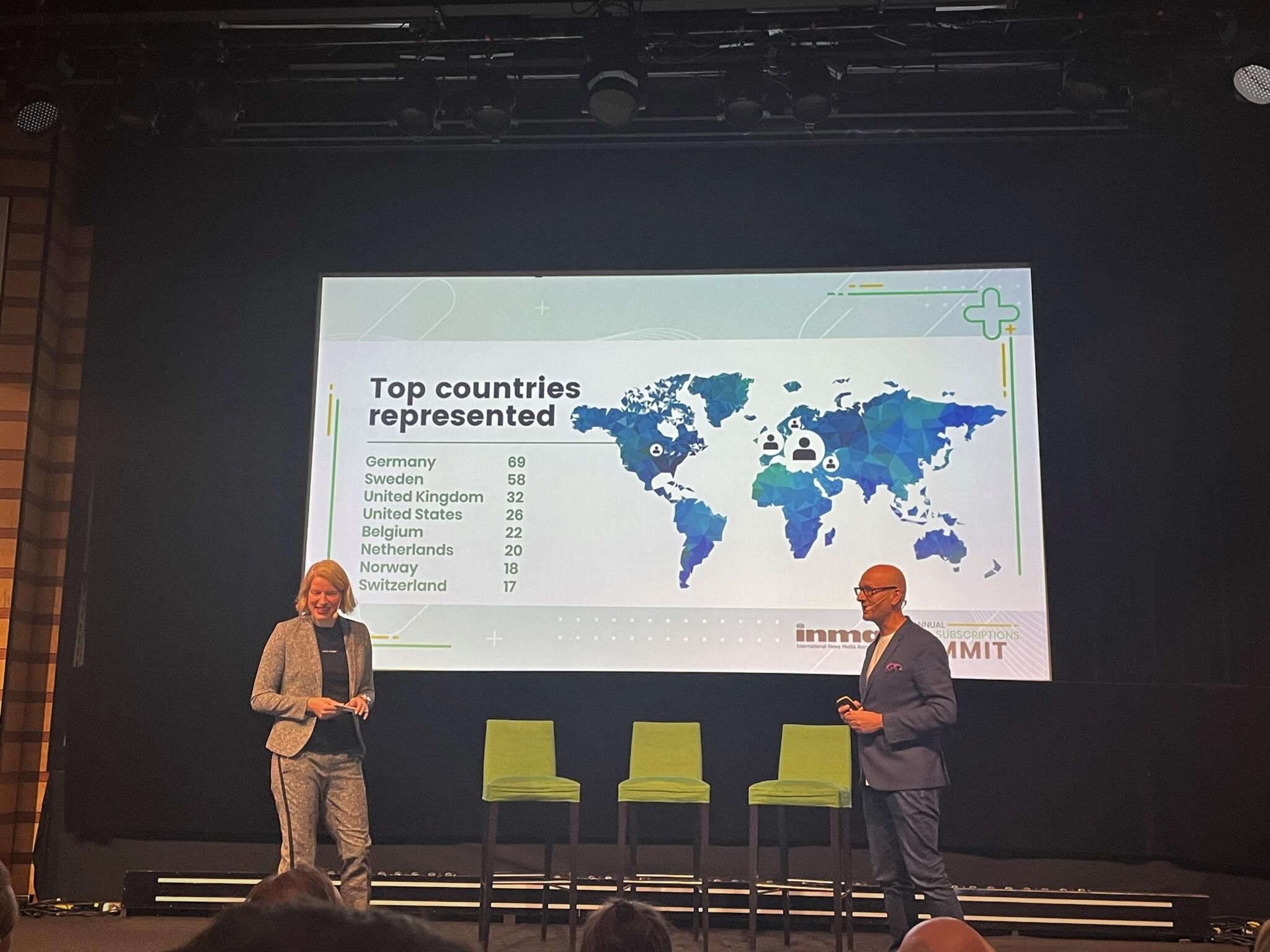 The State of Digital Subscriptions...Is it a Digital Inflection Point?
We were welcomed to the summit by Robert Whitehead, the facilitator of the conference and INMA board member. He certainly set the tone when he welcomed the participants and exclaimed:
"Hurry up and go digital because the paper supply chain is in danger of collapsing!"
Maybe this is exaggerated, but I felt that his statement is not without merit.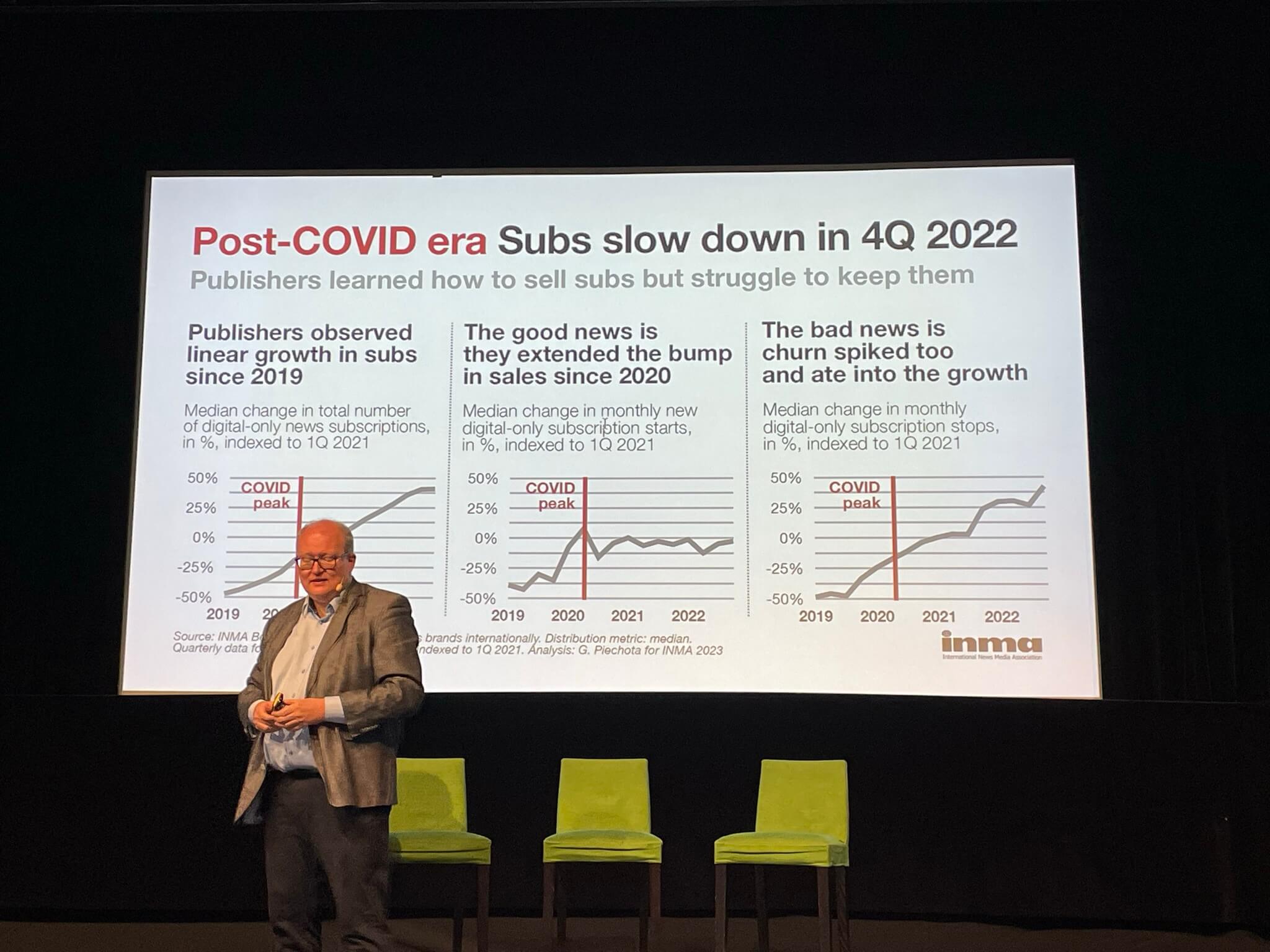 Greg Piechota, the Readers First Initiative Lead at INMA, also shaped the discourse on digital subscriptions. He stated that he believes that while the growth of digital subscriptions may have declined in 2022, it is not indicative of a decline but rather an "Inflection Point." Greg observed a growing dichotomy between publications that are experiencing rapid growth and those that are not growing at all.
To prepare for the future, Greg recommends being agile by offering longer trial periods to develop user habits, adjusting paywall models, which he considers to be a tactical element, and most importantly, addressing retention. In his view, even if we paddle harder, a hole in the hull will eventually sink the boat.

Providing another example of how to stay agile during this digital downturn, the German media group Medienhaus reported success by accelerating digitization efforts while still acknowledging the importance of their print readership. The German subsidiary, which is a regional German media group located in the Rhineland basin, was recently acquired by Mediahuis (an AdvantageCS client).

New Customer Retention Strategies
Will Page, the former Chief Economist of Spotify, highlighted the significance of price transparency in his keynote address. According to Will, publisher's offers are still too confusing and inconsistent. If there is a lesson to be learned from Will, it is the importance of simplifying your offer. He said that by subscribing to Spotify, you get three clear benefits: offline listening, no advertisements, and access to everything.
Additionally, Will emphasized the importance of understanding the external factors that influence a listener's decision to subscribe. For instance, a listener of a private podcast by a journalist may then subscribe to the newspaper where he writes. Will stressed the importance of gathering customer information in order to find out all about their other subscriptions.
Also providing interesting customer retention strategies was Mio Kataoka, Product Manager at Nikkei, who shared two insightful experiences to counter customer attrition. While Japan's leading financial daily boasts nearly 2.4 million subscriptions, (of which 800,000 are digital), customer attrition has limited these gains.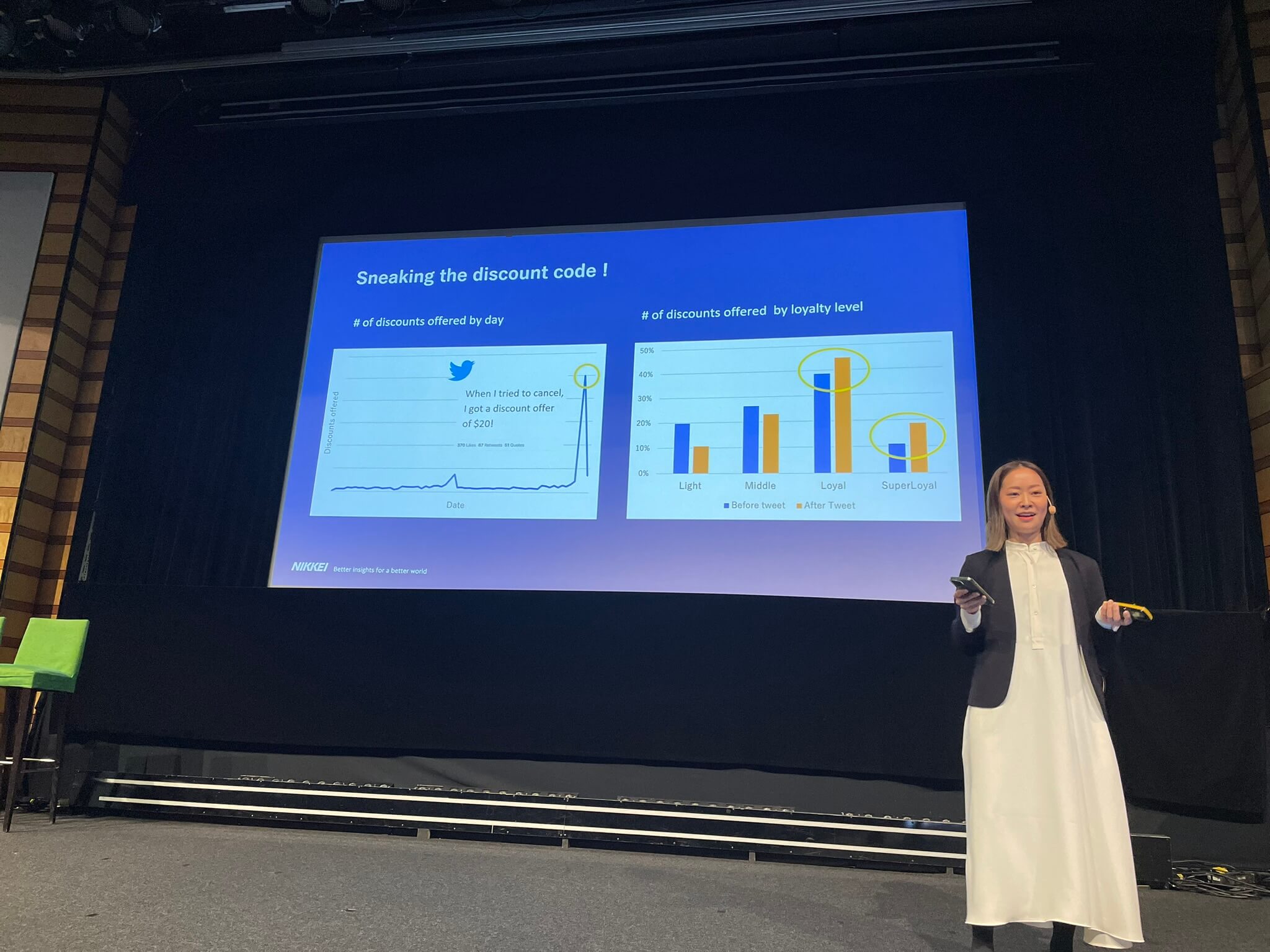 Nikkei's first strategy for limiting attrition was by adding supplementary explanation to articles. In a qualitative study, Nikkei found that younger readers were struggling to understand the articles and were consequently unsubscribing. To address this issue, Nikkei added explanatory buttons that led to a reduction in these types of dropouts.

Nikkei also found that price was the primary reason for customers unsubscribing. To combat this, Nikkei implemented a counter-offer discount at the time of a customer cancellation request. The effect was positive at first, but a viral tweet led readers of the newspaper to call en masse to cancel (to get the discount). As a result, Nikkei has been fine-tuning its strategy.

Getting to "One Million Subscribers"
Lou Grasser, the Director of Marketing and Product at Le Monde, gave a remarkable presentation on how to continue to grow subscriptions by resisting consumers "bypassing the wall." Currently, Le Monde has 500,000 subscribers, and Lou and her team plan to achieve the goal of one million subscribers by 2025.
She listed several new paywall measures they had taken, including preventing concurrent access to content under the same account, restricting copy and paste to fewer characters, and reducing the visible portion of protected items.
On a positive note, Lou also presented measures that build loyalty, such as offers through Google Subscribe, implementing tactics that prevent failed payments and their related involuntary churn. When combined, these concrete measures support not only strong growth but, above all, profitability.
Also striving for the "one million" is Corriera della Sierra, a leading daily newspaper in Italy that has successfully transitioned from an advertising model to a subscription-based model. The newspaper's subscription circulation has already reached an impressive 500,000 and the objective is to double this number. Business digital director Fabio Napoli and head of Subscriptions, Maria Sgromo are both focused on implementing a more mature strategy to continue this growth. They have a double focus on both retention and conversion
First, they have a comprehensive retention policy that includes a welcome program, newsletters, events for subscribers, a loyalty program, subscriber recovery efforts, and other measures that address passive attrition linked to payment issues. Meanwhile, they are also fine-tuning the conversion process through specific offers for occasional readers, deployment of a hard paywall, ready-to-use communication plans for major events such as sports competitions or elections, and increased personalization of the information offered.
Strategic Bundling
Tor Jacobsen, Senior Vice-President of Consumer and Subscriptions at Schibsted, announced a successful gain of 22,000 subscribers in less than a year. The Norwegian giant has nearly 1 million subscribers and plans to double the number. To fight attrition, which is still strong, they have launched multi-brand bundles. These bundles provide more subscription value by providing subscriber access to all of a group's brands. This kind of offering is similar to "Plus," a bundle initiative recently launched by Mediahuis in Belgium.
It was unclear whether this loyalty was due to the offer ("I stay because I get a lot") or because of the inherently loyal nature of the subscribers who sign up (multi-buyers are typically the most loyal).
Another strategic bundling tip came from Aleksander Kutela, CEO at Ringier and Axel Springer, who previously held the position of CEO at HBO in Poland. While overseeing digital TV packages, he learned several valuable lessons about pairings/package offers, most striking was that it is easier to add more, but quality is the most important in creating value (over quantity).
As evident from this INMA Subscription Summit summary, the insights I gained were invaluable, and I look forward to the 2024 edition.