Keeping Busy in Orlando
Report on 2018 Advantage Users Group Conference
More than 70 Advantage clients from 17 companies met in Orlando for the 2018 Advantage Users Group (AUG) Conference. As always, the Steering Committee, led by Christy Wescott of Unity World Headquarters, did an outstanding job preparing the agenda and arranging for the speakers and session hosts. Denise Spickler of Wolters Kluwer Health handled her responsibilities as the liaison with the host hotel with outstanding attention to detail, resulting in a conference that was successful in every way.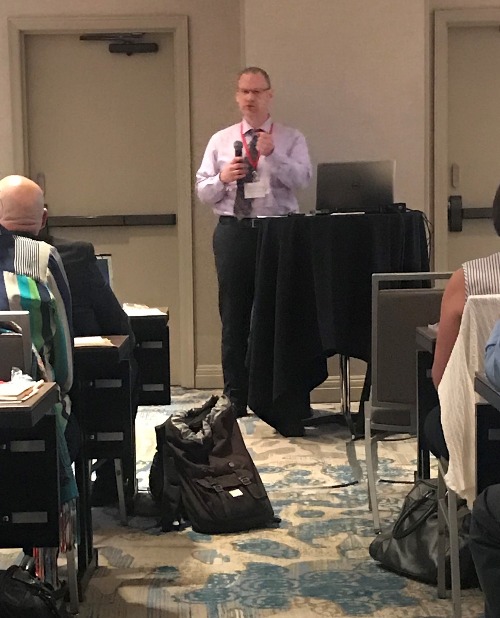 Dan Heffernan, AdvantageCS Vice President of Sales, Marketing, and Product Planning, kicked off the meeting with his annual presentation of AdvantageCS news, strategy, and product direction. Dan was joined in his presentation by Tony Pytlak, President of SFG Network, (pictured at left) who described a number of services available to Advantage clients. (More about the AdvantageCS/SFG partnership here.)
Next up was longtime Advantage user and contributor, Daryl Berver of 14 West. As always, Daryl gave a lively, colorful, and personal presentation on the development and ownership of the customer relationship. Daryl has always been a forward-thinking leader in marketing products and services. As one of the nuggets from this session, Daryl said that customers "want to be shown something they don't already know, and to be sold something they didn't know they wanted." This session was augmented by comments from Darren Guarnaccia of Lytics, a company that specializes in the Customer Data Platform. (photo below: Darren, left and Daryl, right)

The Wednesday afternoon meeting concluded with a panel discussion featuring Brandon Marsh of Informa, Cherilyn Olmsted of Ogden Publications, and Tara Rebak of Newsmax. The topic was Marketing Analytics, with a focus on turning customer and product data into useful sales reports. Each panelist provided a different way to approach the need for a use of the reports.
At the conclusion of the afternoon session, the group adjourned to a casual "meet and greet" reception hosted by Lytics under a perfect Florida sunset.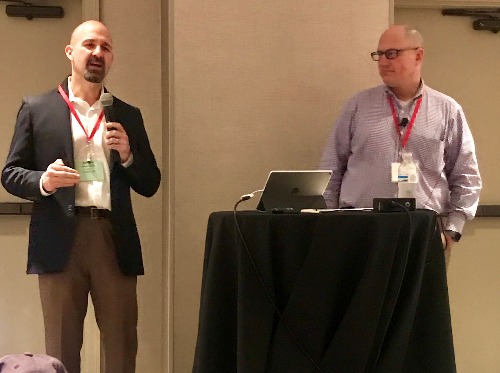 The second day of the conference was Thursday, and it spanned a full day of morning and afternoon sessions. Jim Blake, CEO of Unity World Headquarters, delivered the keynote address under the title of "Influencing Innovation Inside the Organization." In a thoughtful and scintillating message, Jim stressed the importance of employee engagement when implementing and reviewing organizational policies. He also cautioned against a culture of "fear of failure," as failure is an integral and necessary component for every company's path to success. For his concluding comment, Jim encouraged us to "question everything!"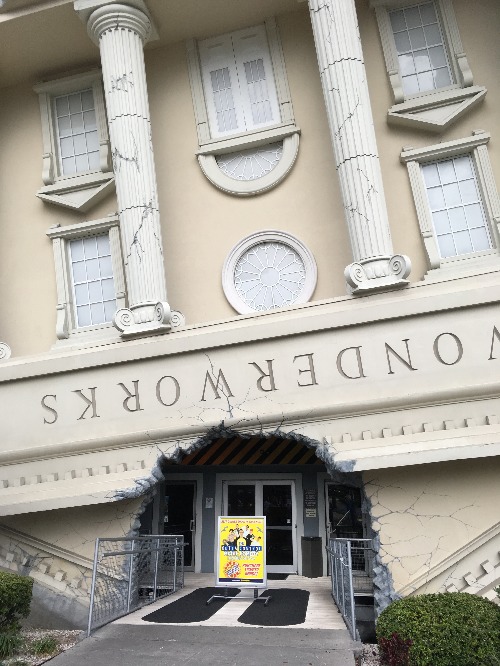 Following the keynote were two breakout sessions. One topic was Membership and Community, hosted by Caryn Bair of Informa, Katie Hecht of Publishing Services, and Scott Ghormley, AdvantageCS Manager of Support Services. The other session was on Address Management, and it was led by Dennis Biswell of Ogden Publications, Mark Fung-a-fat of Massachusetts Medical Society, and Philippe Rowland, AdvantageCS Account Manager.
Upon returning for the next general session, the attendees heard from John Sheehy, AdvantageCS Product Manager. John took us through dozens of new features and customizations that had been added to Advantage in 2017. He also highlighted four key R&D enhancements: Promotional Landing Page Builder, Multi-Attribute Products, Promotional Bundles, and Salesforce Integration.
Just before lunch, time was allocated for AUG business. The general consensus was that the conference format works very well, and that the Steering Committee continues to do a wonderful job in planning each year's meeting. The committee welcomed two new members for the 2018-2021 term: Traci Hart of Crain Communications, and Tara Rebak.
After lunch, there were two panel discussions. The first was on Posting Options and was led by Dennis Biswell, Lesley Jones of Duke University Press, and Mark Fung-a-fat. The second panel topic was Customer Contact Management and was comprised of Kevin Gervais of Massachusetts Medical Society, Tara Rebak, and Christy Wescott.

The next round included two breakout sessions. One was on Customer Relationships and was led by Joe Wixted of American Medical Association and Dennis Kerlin of Our Sunday Visitor. The other was on Accounts Receivable Transactions and was hosted by Catherine Cronin of Massachusetts Medical Society and Denise Spickler.
The final session on Thursday was a presentation of Cider, the Advantage eCommerce platform. The speakers were Tricia Koning of InterVarsity Press and Tim Swietek of Ogden Publications. Client interest in Cider continues to be very high, and we look forward to hearing additional testimonies of successful implementations at future AUG conferences.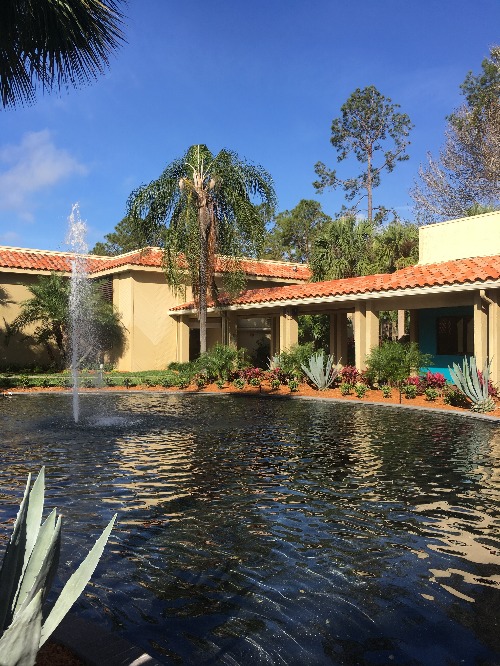 As in the past, Thursday evening was the time for groups to seek out local options of entertainment. The largest group went to WonderWorks, an indoor playground for all ages located in Pointe Orlando. The evening included a pizza-and-beverage group dinner, while enjoying a combination magic and comedy show. The inevitable audience participation involved a number of AUG attendees, though their identities will remain sealed and available only to those who were present. WonderWorks also offered countless indoor entertainment options, ranging from laser tag to a 4D thrill ride that subjected the audience to being attacked by dinosaurs.

Friday morning began with the annual Technology Update, delivered by Dick Hile, AdvantageCS Vice President of Product Engineering. Next was a panel discussion on the important topic of General Data Protection Regulation (GDPR), which will be rolled out on May 25, 2018, only three short months from now. Panel members were Bryan Varblow, AdvantageCS Vice President of Operations, Philippe van Mastrigt, AdvantageCS Director of European Operations, and Nick Daley of Publishing Services.
The next hour offered two concurrent roundtables. One was on Continuous Updates/Automated Testing of Advantage, and it was led by Suzanne Earley of Agora Financial, Joe Wixted, and Doug Moore, AdvantageCS Manager of Program Services. The other roundtable topic was Packages in Advantage, and the leaders were Terri Cannon of Informa and Lesley Jones.
The final slot also offered two parallel sessions. One was on OmniStream/MapForce, led by Caryn Bair and Annemarie Neff of American Medical Association. The other was a roundtable on the Standing Order (STO) and Book Club (BCL) Modules, hosted by Suzanne Earley and Scott Ghormley.
Given the steady forecast of extreme winter storms in the East and Midwest, no one was in a hurry to leave Orlando. With several days of perfect weather at an outstanding facility, some of us extended our stay for an extra day or two. It mattered little, however, as there were piles of snow awaiting most of us when we returned home.
We hope to see you next year in New Orleans February 20 – 22, 2019.