Our Sunday Visitor and AdvantageCS: Partners for 30 Years
It was in 1990 that Our Sunday Visitor (OSV) first became a part of the Advantage family. In the years since, the two companies have gone through countless projects together---large and small---including upgrades, in-conversions and new development. Today, OSV is the largest provider of church envelopes and one of the largest Catholic publishers in the world, and all OSV divisions are operating on Advantage.

The Publishing division of OSV had been happily using Advantage for nearly 20 years when Harcourt Religion Publishers (now referred to as Our Sunday Visitor Curriculum Division) was acquired by Our Sunday Visitor Publishing in 2009. The conversion of the Curriculum Division to Advantage allowed Our Sunday Visitor Publishing to consolidate data, streamline customer service, improve fulfillment and inventory management and maximize sales efforts by using the same system.
The remaining division, Offertory Solutions, went live on Advantage in 2010 after an extensive development and implementation project. Offertory Solutions primarily prints and sells offering envelopes to churches, and although there were some features in common with magazine and book sales, the vast majority of the functionality was unique and required development.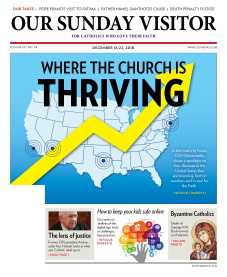 The project was executed in two parts: end users in the office (OMEGA) and end users on the production floor (Production Scheduler). The actual development time for both of these encompassed more than 12,000 hours, 30 formal design specifications (250+ pages), 200+ informal design specifications, and 15,000 hours of testing.
Kyle Hamilton. OSV's CEO, explains why the relationship has been so successful. "OSV has been a client of Advantage Computing for 30 years. We view ACS as a partner and an extension of OSV rather than just a vendor. Their ongoing willingness to invest and update their system with the latest technology has proved to be invaluable. As they work to understand our business, this technical knowledge is leveraged to help OSV solve its business problems. The ACS executive leadership team is approachable and open to listening to our issues and concerns."
Dan Heffernan, Vice President of Sales and Chief Product Manager at ACS, had this to say about working with OSV for three decades: "During our 30-year relationship, Our Sunday Visitor has implemented much of the Advantage solution to manage their diverse business, including the offering envelopes project which integrated Advantage with their complex, customizable envelope printing technology some 10 years ago. They recently implemented our eCommerce platform for both their B2C and B2B products. They are an exemplary Advantage client and have been involved in the Advantage Users Group since its inception. On top of all that they are delightful people! It's a pleasure working with them. Here's to 30 more years of a successful partnership!"
Congratulations to both companies on such an impressive milestone!