Homepage-News
Events
Featured
AdvantageCS Volunteers Take to Detroit for Service Project
On Monday, October 2nd, a team of AdvantageCS employees came together to take part in a service project with Detroit-based nonprofit Life Remodeled. This project is hosted annually by Life Remodeled, who invites thousands of volunteers from across the state of Michigan to help beautify a neighborhood in Detroit.
The AdvantageCS team of volunteers took part in cleaning up a vacant corner lot. The team cleared out the brush which had grown around the house, gathered and bagged the trash, and performed lawn care such as mowing and weed whacking. The team also dug out the sidewalk, which had been overgrown with grass and performed lawn care services for several neighboring residents.
This was a terrific opportunity for AdvantageCS employees to work together and help the community. Our team generously gave their time during the project, while AdvantageCS contributed by supplying food for the team and counting a part of the volunteer work as paid time.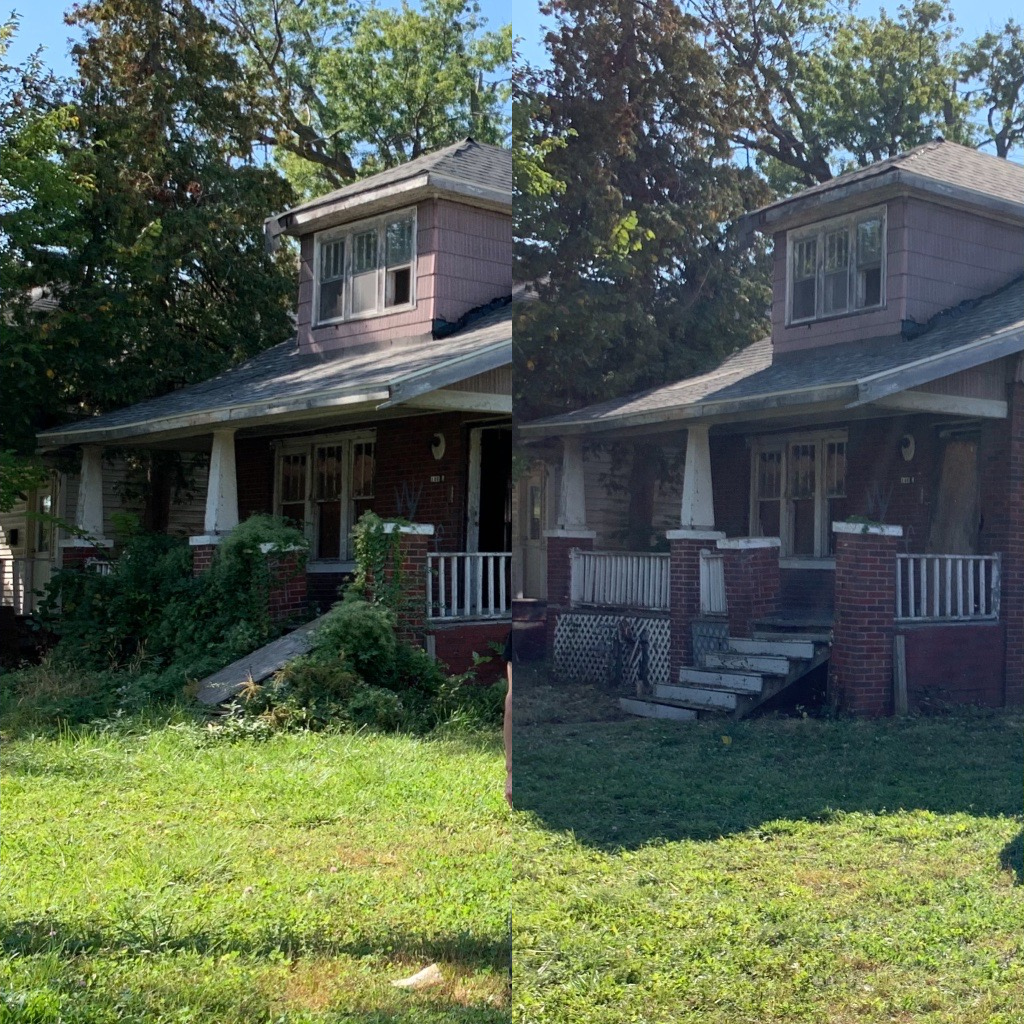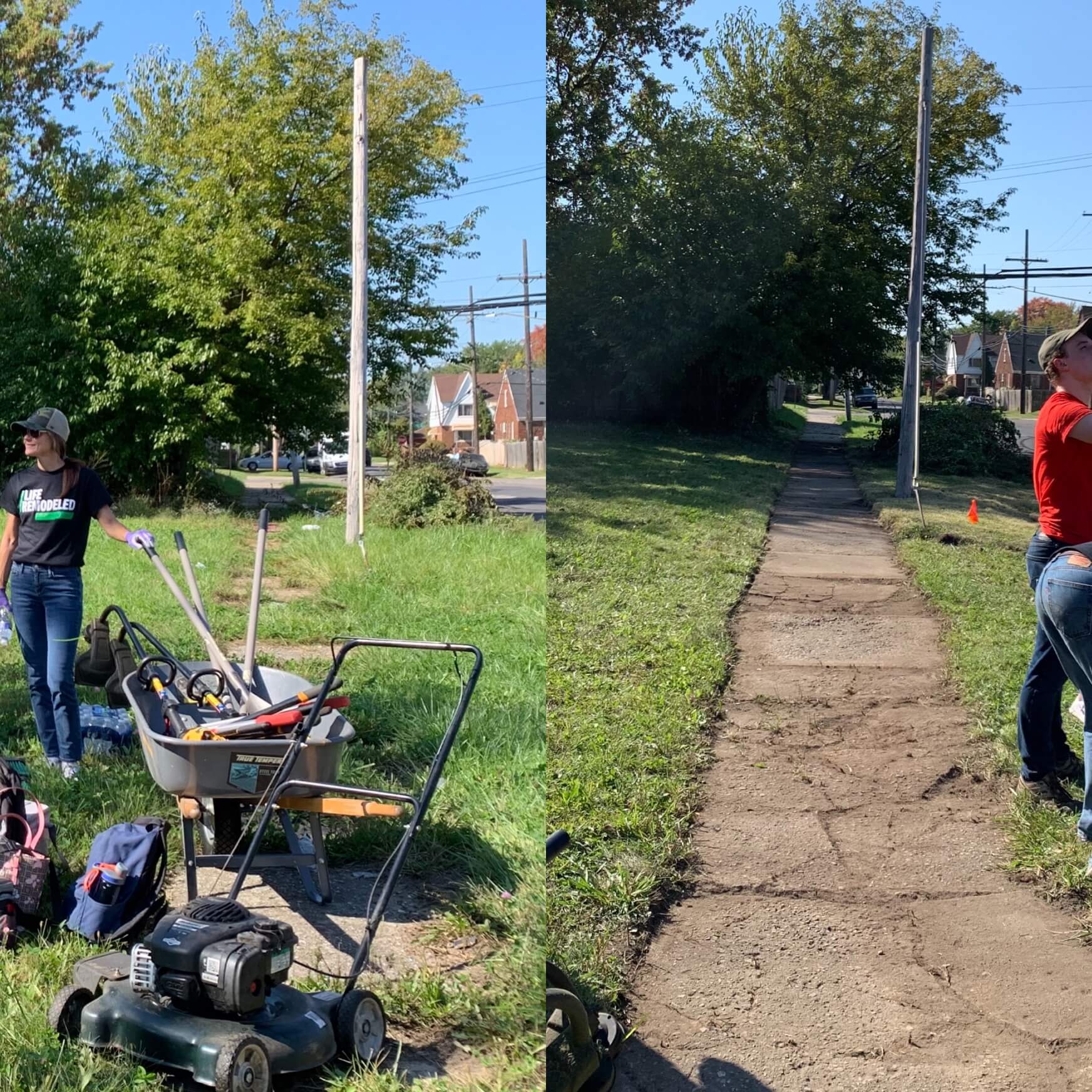 Participating in the service project was a valuable and fun experience, according to the team. The volunteers especially appreciated the chance to interact with the residents of the local neighborhoods. "It was really heartwarming how much the people who lived in the neighborhood showed us gratitude," reported Daryl, a volunteer from the Client Services Division; "The work was gratifying on its own; it was a beautiful, sunny day and it was nice to see the outdoor space transform. But above and beyond that, it was a real highlight to talk with the people in the neighborhood and to meet the people there, who were uniformly appreciative and friendly."
This sentiment was consistently expressed across the team. "I really enjoyed seeing how our work was making an immediate impact on the neighborhood," said Jon, a team leader from Engineering Services; "Several residents expressed their appreciation as they passed by. One resident offered to refill my weed whipper with fuel, and another resident expressed to us several times how much our yard work meant to her."
"Those living in the neighborhoods where we worked expressed their appreciation for our efforts which made it more rewarding to me," added Angie, the manager of the Support Center.

The volunteers also appreciated the chance to work alongside AdvantageCS employees who would usually be in different departments. "I really enjoyed [the event,]" said Angie. "The experience helped to unite a group of us from varying teams across AdvantageCS."

This service project was made possible by Life Remodeled, a nonprofit committed to revitalizing Detroit communities. Life Remodeled fulfills this mission in several ways. Notably, they organize an annual "Six-Day Project", which AdvantageCS took part in. This project is designed to beautify Detroit neighborhoods by removing blight and doing lawn care for residential yards. Since 2004, Life Remodeled has invested over $43.5 million into these projects. They've engaged over 75,000 volunteers who have repaired 194 homes, boarded up 2,062 houses, and beautified 2,076 blocks.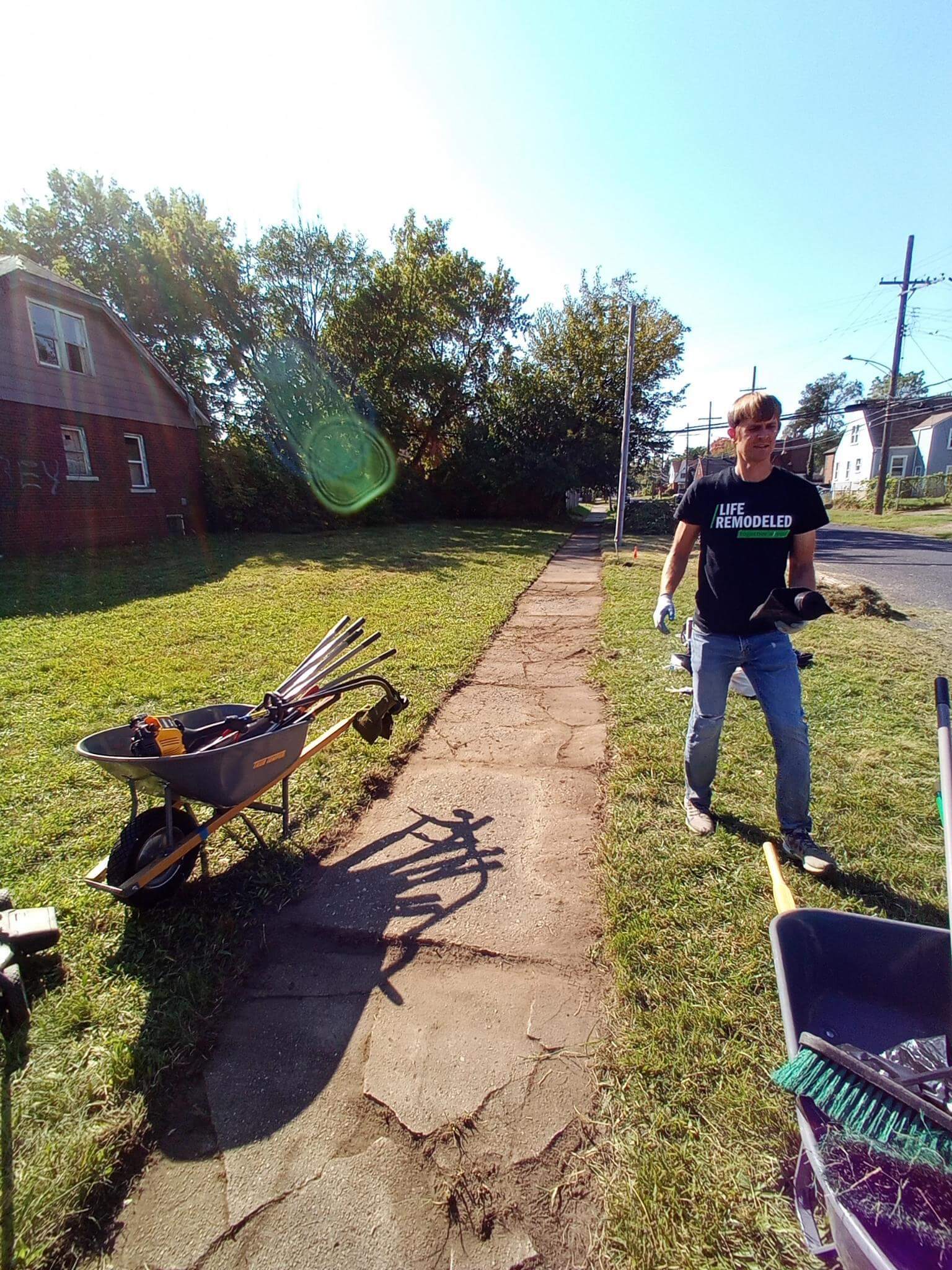 In addition to improving quality of life in these neighborhoods, this work has had a quantifiable impact on the residents' safety, as the community's crime rate consistently drops after the project is finished. Statistics from the Detroit Police Department show that after a recent project, the one-year crime rate reduced in 10 out of 11 categories. This included a 47% decrease in homicides.

Life Remodeled has also been working to turn vacant buildings into opportunity hubs, housing nonprofits with the goal of providing the needed resources for impoverished families. Life Remodeled recently finished building an opportunity hub at the Durfee Innovation Society. This year, they are performing a similar project at Cooley High School.
Participating in a project with this sort of lasting impact meant a lot to the volunteers. The experience helped AdvantageCS and its employees to better connect with each other and with the surrounding communities, but it also instilled a sense of purpose, and the satisfaction of a job well done. "…for me personally, I was grateful for the opportunity to step outside of my comfort zone and help with a greater cause." Said Jon; "I hope I can go back next year!"