The Advantage Support Center: A Dedicated Team of Experts
This year marks the 20th anniversary of the Advantage Support Center as it exists today. Prior to 1998, support was handled by the analyst teams, who also managed implementation projects and software upgrades, plus account management and training. With that model, however, team members often found themselves juggling conflicting priorities between their various roles. The solution was to form a team of analysts and engineers entirely devoted to support.
The center now has a full-time staff of four, plus a manager, and analysts from other teams help on occasion. Depending on the client and the issue, any one of half-dozen engineering teams provides technical assistance. Twenty-four hours a day, 365 days a year, the Advantage Support Center is available and its staff is eager to help. Clients can email and call anytime, or even stop by in person during US local business hours.
Nearly all Advantage clients use the Support Center except for those in the implementation phase. Advantage clients rotate into the Support Center a month or two after their initial go-live. Some clients rarely contact the center while others use it regularly for all sorts of questions. The support staff not only handles support calls, but also does training, helps clients implement new features, and provides consulting on ways Advantage can help a client's business.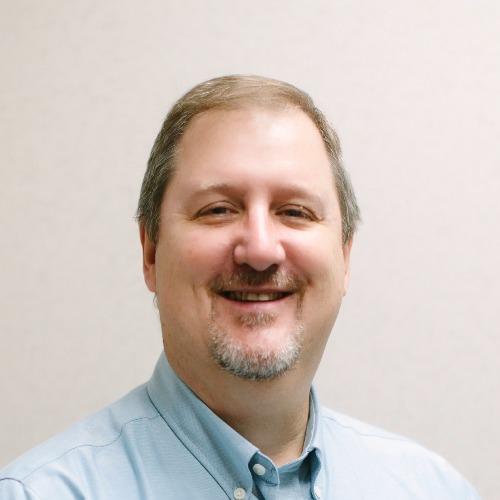 Meet the Support Center team
Do you work with the Advantage Support Center? If so, may not have met the team in person. Here isyour chance to learn a litttle about the ppeople on the other end of the phone/email.
Scott Ghormley
Scott Ghormley took over as the Support Center manager four years ago when Ev Acton retired. Scott's personality, knowledge of Advantage, and diverse history with AdvantageCS and many of our clients make him uniquely qualified to manage the Advantage Support Center team.
Scott's AdvantageCS career began before AdvantageCS even existed. As a sophomore in high school, he worked at Infomatics, which was one of the precursors to T & B Computing, later re-named AdvantageCS. He was an intern at T & B during college and joined full-time upon graduation from Eastern Michigan University with a degree in Operations Research and Information Systems. At one point, he left the company for almost ten years, working at Domino's Pizza and other firms, but he returned to AdvantageCS in 1997.
Scott's AdvantageCS career began before AdvantageCS even existed. As a sophomore in high school, he worked at Infomatics, which was one of the precursors to T & B Computing, later re-named AdvantageCS. He was an intern at T & B during college and joined full-time upon graduation from Eastern Michigan University with a degree in Operations Research and Information Systems. At one point, he left the company for almost ten years, working at Domino's Pizza and other firms, but he returned to AdvantageCS in 1997.
If Scott doesn't hold the record for the most different jobs at AdvantageCS, he certainly comes close. He has worked as a project engineer, a sales engineer, a project manager, a systems analyst, and an account manager. His present role includes continuing to serve as the account manager for several large and complex client companies.
A resident of Ann Arbor for most of his life, Scott and his wife of 30 years, Tammy---a nurse practitioner at the University of Michigan Cancer Center---have four children ranging in age from 14 to 27. Oldest son Mike graduated from Carnegie-Mellon and works at a local engineering firm serving the automotive industry. Daughter Elena earned a degree in Movement Science from the University of Michigan and is presently teaching kickboxing and working at restaurant as she prepares to return to college to become a physical therapist. The two youngest are still at home, in middle school and high school, respectively.
All of them share Scott's passion for sports---Mike played college football, Elena was on the Big10 championship diving team at the University of Michigan (all of her brothers are envious of her championship ring), son Peter plays lacrosse and youngest son Derek aspires to be a Michigan basketball player. When he isn't working, Scott is most likely involved with a sports activity with one or more of his kids, whether as coach or spectator.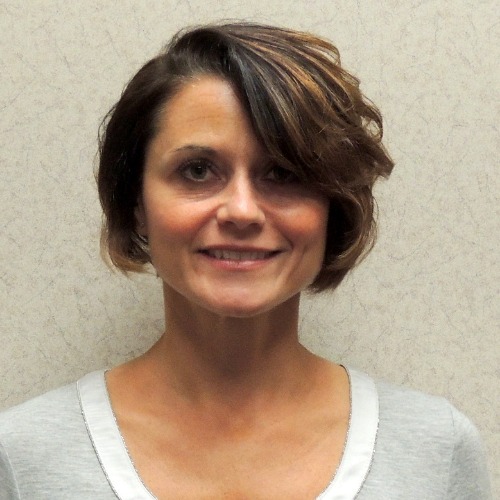 Angie Markel Lampi
Angie Markel Lampi has spent most of her 17 years at AdvantageCS in the Support Center, except for a couple years in the Upgrade group and a stint on the Implementation projects team. Those experiences have served her well in her support work, which is her favorite role. Angie greatly appreciates the team environment of the Support Center where everyone is quick to step in to help each other. She has nothing but praise for all her teammates, both analysts and engineers.

For the last 7 years, due to a special services agreement, Angie has served as the primary support person for a large and complex client, a role she greatly enjoys. Her work day has an early start so that she can provide early morning support for European clients, if needed.

Angie attended Central Michigan University in Mount Pleasant, where she earned a dual bachelor's degree in Math and Computer Science. During college, she was a co-op student at Dow Corning Corporation and then accepted a job there after graduation. She moved to the Ann Arbor area in 2000 and joined AdvantageCS that September.
Angie lives in the Dexter area with her husband and two high-school age children.

Jeff Leonard
Jeff Leonard is in his element as a member of the Support Center team, which he joined a little over four years ago. He enjoys the challenge of solving problems and pointing clients in the right direction to answer their questions. What he really likes, however, is to look beyond the immediate situation and determine how an issue can be prevented from happening again. Although Jeff is proficient at dealing with all kinds of issues and questions, he likes handling web-related matters best.

Jeff is a graduate of the University of Michigan and earned a bachelor's degree in mathematics. His focus was on theoretical or "pure" math," as opposed to applied math, and Jeff says that his studies prepared him well for being in the Support Center because he learned critical thinking and problem-solving. These skills, as well as being someone who is very comfortable with computer technology and the programming world, make him ideal for handling support issues.

Raised in Dexter, Michigan, Jeff met his wife, Tirienne, at a ballroom dance class at the local community college. The couple and their two young daughters live in Milan where they recently bought a house. Jeff's new hobby is DIY home projects and he will tackle just about anything, including installing a new gas line and soldering pipes.
Jeff volunteers at his church, where he runs the sound board for services, and he also provides math tutoring to friends. He likes to sing and is a former member of The Boychoir of Ann Arbor. Also interested in photography, Jeff had his own photography business at one time. These days, his two little girls are his favorite subjects.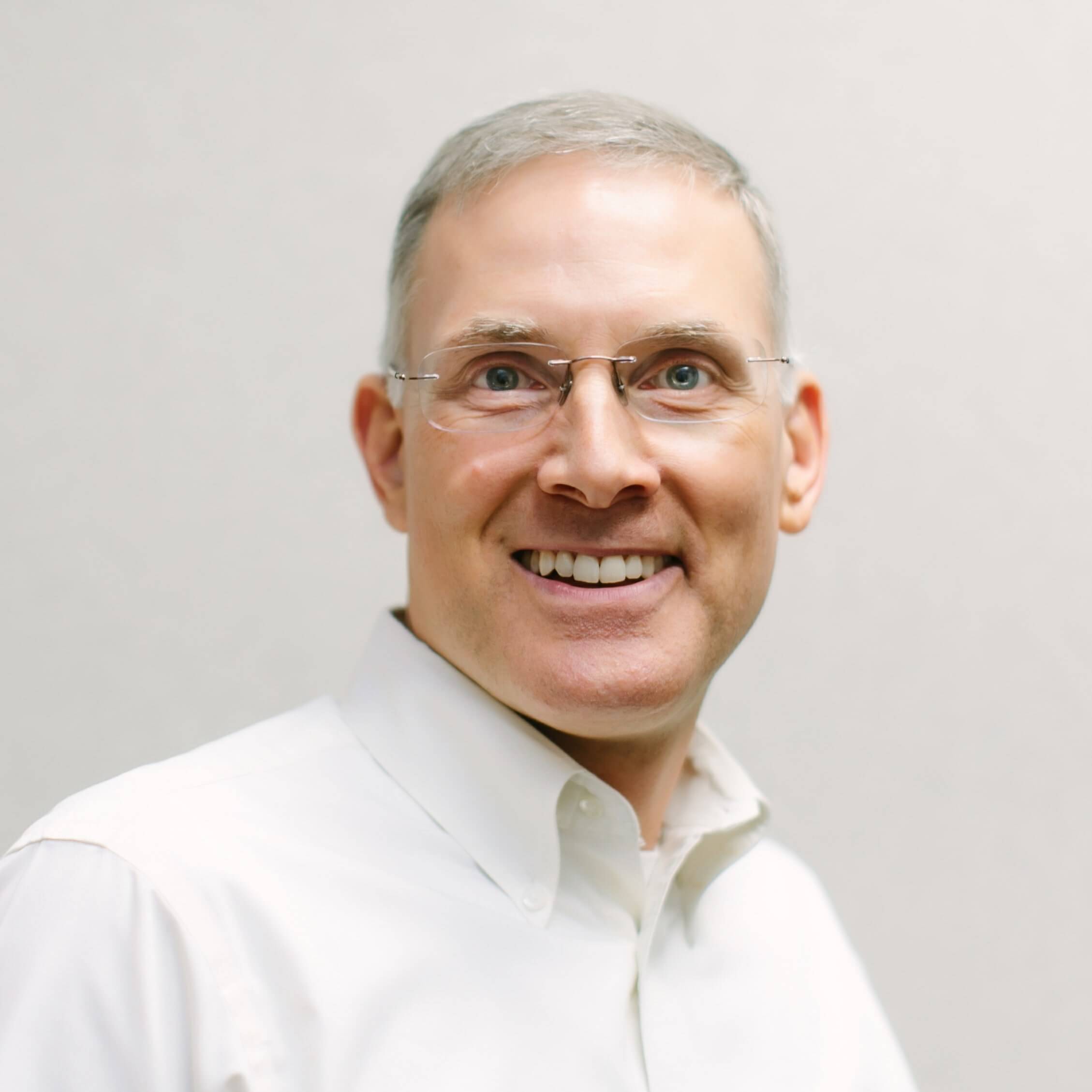 Mike McCarren
Although he is an 18-year AdvantageCS veteran, Mike McCarren has the unique distinction of having worked at not just one, not two, but THREE former AdvantageCS clients. His first job was at Servant Publications, where he worked in audio recording. Then he went to Spring Arbor Distributors, a book warehouse distributor for Book Stores, where he did customer service. Finally, he was the Service Manager at JOBO Fototechnic, USA.

Mike started at AdvantageCS in the Implementations group. He enjoyed the 8 years he spent doing that but wanted a break from the heavy travel schedule and so moved into production support 10 years ago. He likes the Support Center team and how the staff works to leverage the different skills of each person.

Another plus of working in Support is the variety---every day brings something new, says Mike. He relishes the challenges of needing to be knowledgeable about different revisions of Advantage and of communicating with each client according to their preference. His stint in Support has included working with clients in Australia, which, with the time difference, meant he participated in a lot of evening conference calls.
Mike has always been interested in both electronics and music production. In fact, music is his first love and he started college at Eastern Michigan University majoring in Music Education. Although he switched to Industrial & Digital Technology, Mike minored in voice and keeps his hand in by singing and co-directing the choir at his church.
When he isn't working or involved with the choir, Mike enjoys swimming and hiking. He and his wife, Kathleen, live in Lodi Township, and have four adult children; three sons and one daughter, who live, work, and attend school in the area.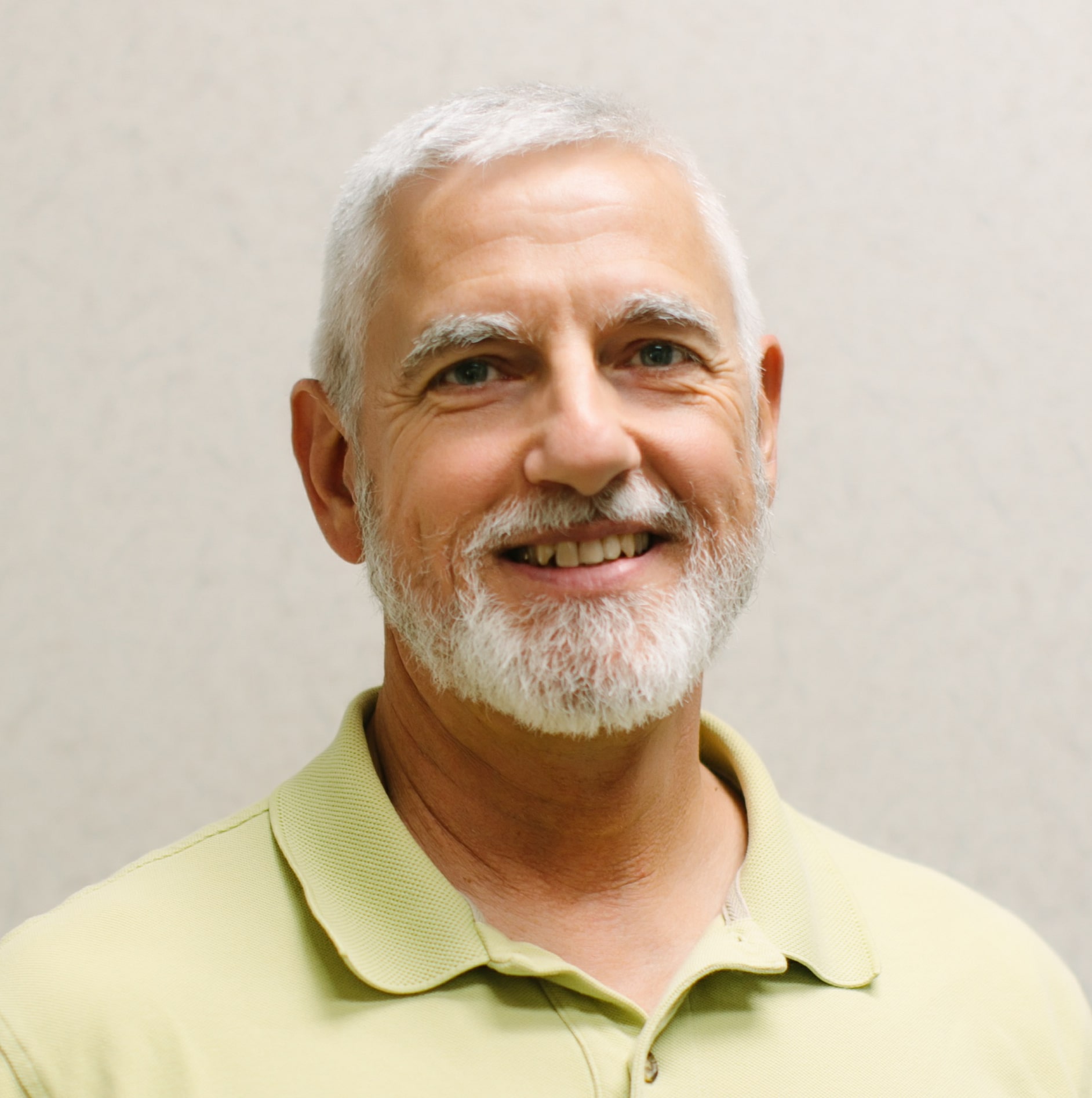 Mike Miklosovic
Mike Miklosovic is one of half-dozen or so people who have left AdvantageCS and then returned some years later. In the 80's, he spent 8 years here as a programmer and then took a job with the University of Michigan surgery department, where he provided tech support. After 11 years there, he returned to AdvantageCS as an analyst and project manager. After working on implementations for 5 years, Mike then spent 5 years in QA. Two years ago, he joined the Support Center and has found his implementation and QA experiences to be invaluable. He likes the wide variety of issues that he deals with every day and relishes the daily challenge of solving problems.
Mike enjoys the camaraderie of the support team and believes that the close proximity of others to bounce ideas off of makes everyone more efficient. He also admires the "wonderful" clients AdvantageCS has and likes to help them to do a good job.

Mike earned a bachelor of arts degree in human resources administration and, although he likes figures and analysis, he prefers working with people. Mike has kept his Project Management Professional certification current and occasionally helps out on an implementation project with training or other support.
The energy and enthusiasm Mike expends in his support position is visible in his life outside of work as well. Mike enjoys running and biking---he rode the DalMac this past year, a five-day trip from Lansing to the other side of the Mackinac Bridge. His goal is to get one or more of his grandchildren to ride with him some day.
This should be fairly easy to do, since Mike and his wife, Mary, have 29 grandchildren, ages 6 months to 18 years. Their 7 children are all married and living in the local area around Mike and Mary's home in Superior Township, near Ypsilanti. It's no surprise that family activities play a large part in Mike's life as well.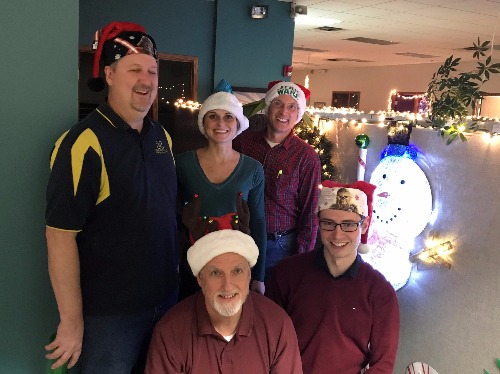 Terrific Team Spirit
The team not only works together extremely well, they "play" well together, too. The Support Center was the winning team in the holiday decorating contest last December, with a coordinated decor theme that was beautifully executed. Here they are after learning they won.