Tyranny of the Urgent
In our world of constant interruptions and crises, it can be difficult to find time to address the critical tasks and projects that fall into the category often referred to as "Q2." These are the things that in mapping out priorities get put into the second quadrant, which is reserved for those tasks that are important but not necessarily urgent. We become victim to the tyranny of the urgent. Our time and our lives become dominated by addressing whatever emergency has popped up that day. It's easy for those things that belong in the third quadrant (tasks that are urgent but not necessarily important), to masquerade as a top priority.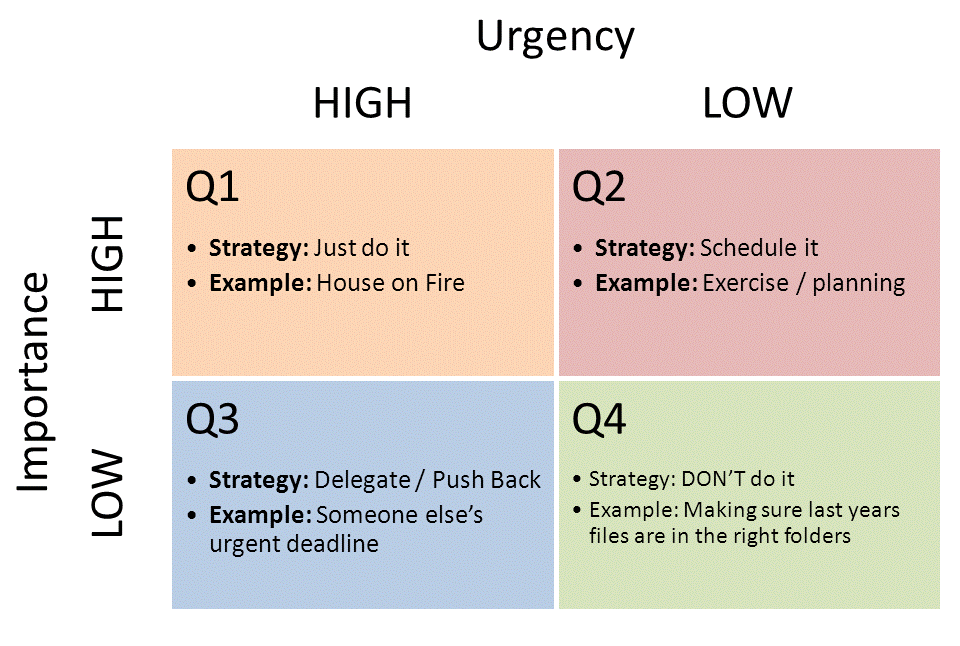 There are many ways to reorganize your priorities to focus on what truly should be at the top of the list. Sometimes that involves accepting that there will missed be opportunities in the short term in order to focus on what is more important long-term. Other times, it means needing to hand off the urgent task or reassess whether the task is as urgent as first believed.

It's especially true in the area of IT that there are many risks from not properly understanding organizational priorities. Most companies today have business-critical information systems and infrastructure that allow them to conduct business. When those systems are down, the ability to take orders, process payments, or fulfill commitments to customers can come to a halt---a situation both urgent AND important.

However, maintaining these vital systems can sometimes take a backseat to whatever fire the IT department is putting out on a given day. If a user has a problem that's preventing them from doing their job (or sometimes a user is just making a lot of noise), and your business-critical system that's used by hundreds of users is humming along on the other side of the building without any apparent problems, there's a strong pull to neglect the planning and maintenance that's needed to keep that system humming along, in favor of helping the one user. The problem is, there will always be fires to put out and that neglected planning and maintenance can result in a system going down, which then prevents everyone from doing their job.
Are you doing the planning and maintenance needed to ensure your business-critical Advantage system stays up and running? Are you applying updates on a frequent basis? Do you have a disaster recovery plan that's been tested and updated from time to time? When was the last time you assessed the security of your system?
In working with a multitude of clients over the years, I've seen many situations where planning and maintenance has been neglected. When it's caught in time, I've had the pleasure of seeing clients become well-prepared to handle unfortunate situations that arise. Even more importantly, clients have been able to prevent such unfortunate situations from happening in the first place. I've also had the displeasure of needing to help clients who weren't prepared and as a result were urgently trying to get their business back up and running. This has run the gamut from the lack of functioning database backups, to being hacked due to neglecting to apply security updates, to lost custom source code files when a disk failed. (Did you know that custom source code files are typically stored only on your server rather than at AdvantageCS?)
With the experience that we at AdvantageCS have had helping clients with such concerns over the years, we're always happy to help you review what's in place to keep your Advantage system up and running. We've helped clients implement solutions to address many common concerns, such as utilizing cloud-based source control or hosted servers. There are also many gaps that can be filled just by some planning and simple automation. If you haven't taken advantage of these valuable services lately, why not contact your account manager at AdvantageCS to get the process moving?