European Users Gather in Lisbon for Annual Meeting
Last month, Advantage users representing 14 companies across 11 countries gathered in Lisbon, Portugal for our annual European Users Meeting. As with previous meetings, our primary objectives were to give our European clients the opportunity to engage with AdvantageCS leadership, learn about product developments firsthand and connect with fellow users.
The two-day conference began with a welcome from Victor Machado of Deco Proteste, our generous hosts for this year's event. Part of Euroconsumers, Deco Proteste is the largest consumer association in Portugal. In addition to publications, Deco Proteste offers a wide variety of services to Portuguese consumers, including legal advice, education and advocacy.
Day One Presentations
The event continued with a keynote presentation from Xavier van Leeuwe, Leader of Marketing and Data at Telegraaf Media Groep (TMG) — one of the Netherlands' largest media companies. Like many of its counterparts, TMG faced declining circulation and advertising revenue. Xavier told the inspiring story of how TMG launched a creative six-step strategy to not only weather the storm but to accelerate the company's growth.
Next, AdvantageCS leadership took the stage, starting with Philippe van Mastrigt, our Director of European Operations. Philippe presented his ever-popular annual rundown of publishing industry trends, ranging from the rise of digital subscriptions to diversifying revenue streams via audio and other product offerings. Keep your eye on our blog for a more detailed summary of Philippe's presentation.
Philippe handed it off to Dan Heffernan, our Vice President & Chief Product Manager, for a peek behind the AdvantageCS curtain. He began with company updates and whereabouts, as we have recently attended over 20 industry events and trade shows around the world. He shared a couple milestones, too: AdvantageCS is 39 years old, with 26 consecutive years of profitability. Dan then shifted the focus to our product and our clients, highlighting several recent go-lives and upgrades plus the proliferation of Cider, our eCommerce platform. Lastly, Dan talked about our priorities for the coming year, including client-driven initiatives and R&D, which has increased by 5x.
On the topic of R&D, Dick Hile, our Vice President of Product Engineering shared AdvantageCS's vision for reducing clients' infrastructure costs via our web UI, multi-server changes and open source platforms. We are also working on processing improvements and concurrency to make Advantage even more powerful.
Day one wrapped up with a reception featuring Portuguese wine--the perfect opportunity for event attendees to mix and mingle. Conversation continued to flow over dinner and drinks at the Museu da Cerveja (Beer Museum), a beautiful and vibrant restaurant located on Lisbon's picturesque Praça do Comércio. We enjoyed beer (of course!) alongside traditional Portuguese cuisine such as bacalau (salt cod).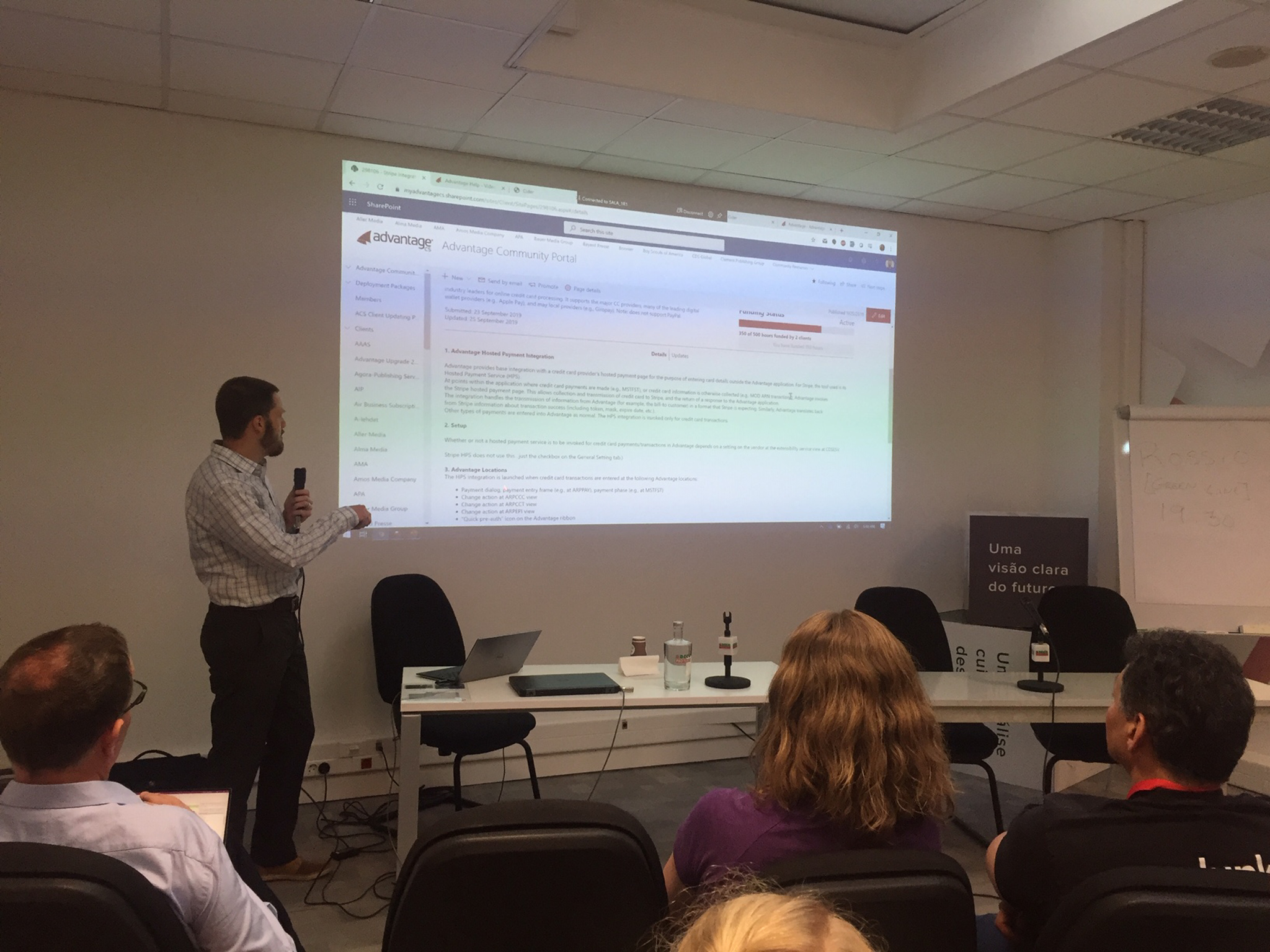 Day Two
Day two saw more deep dives into Advantage and its applications. We invited three clients — Paulo Ferreira of Deco Proteste, Eija Rauhala of A-Lehdet and Maria Larsen of Bonnier Magazine Data — to share how their respective companies handle customer contact management, i.e., customer service, communication channels, reporting and more. A special thank you to them for their valuable insights.
Then, John Sheehy, our Chief Solutions Architect took the stage to describe recent product initiatives like our new instructional videos and ModHub, a GoFundMe of sorts where AdvantageCS clients can collaborate on product development. He spoke about our increased focus on user experience, which has resulted in changes to our interface and billing models. John also provided updates on product features mentioned at last year's European Users Meeting, namely Cider and Select Set Builder.

After John's presentation, we opened the floor for discussion. Attendees broke into small groups to chat about specific topics and pose questions to each other as well as AdvantageCS staff. After some engaging dialogue, the event concluded with lunch, after which we said our goodbyes and attendees hopped on planes, trains or automobiles home.
Thanks to the diverse and enthusiastic crowd, this year's European Users Meeting was the best yet. We hope everyone found it to be both informative and fun. Many thanks to Deco Proteste for hosting us, and to all who joined us at their offices in Lisbon. We look forward to seeing everyone again next year!